Love it or hate it but you definitely can't ignore that soft circle of love, a true foodie would have already guessed by now that I'm talking about the humble Dosa./Dose/Dosai (Read: savory pancake if you're a foreigner or an Indian with an American accent!). The Masala Dosa has also gained international fame when it made it to the list of "10 foods to try before you die". Karnataka is the birthplace of the Dosa with roots of its creation dating back to as early as 920 AD (Click here for proof if you don't believe us and we are very sorry Tamil Nadu!).
Karnataka being a vast state has seen various forms of the Dosa to such an extent that every district has their own distinct flavors. Now, if you're anti-dosa please close this window immediately because LittleApp is going to take you on a journey across Karnataka identifying the best types of Dosa, here goes:
Udupi
Ladies, gentlemen and fellow Dosa lovers, this is where it all began on the temple streets at Udupi. The sweetness in the Sambar and the crisp Dosa will take you back in time for sure.
Claimed to be one of the oldest joints serving Dosa since the beginning of time, and having temple roots, Mitra Samaj located at Temple street opens it's doors at 5.30 AM and is known to be one of the founding fathers of Dosa in Udupi, don't go by the date of 1949, legend has it that Mr. Holla was serving Dosa's on Temple street long before 1949. Do try their Goli Bajes too.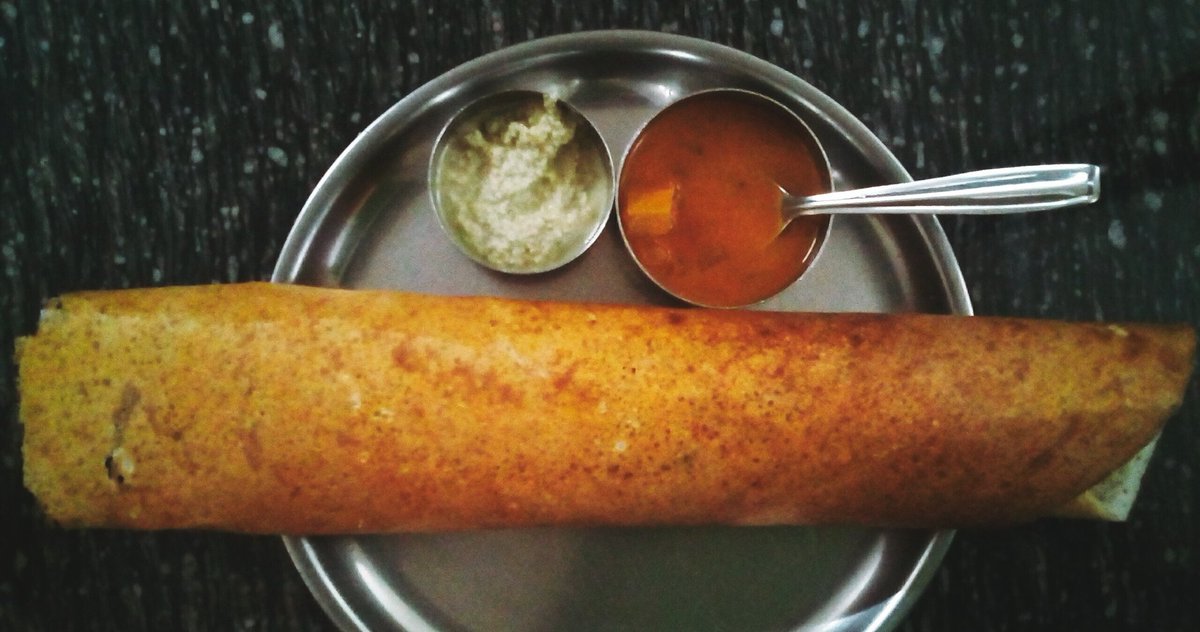 Mangalore:
60 kilometers away from Udupi lies a paradise for foodies. Sugar, spice, and everything nice, Mangalore is one place in India that seldom disappoints food wise. Not many people know but, here lies one of the lesser know variants of Dosa, Neer Dosa. Neer means water in Tulu (the local language spoken here). This is perhaps one of the easiest to prepare variants of Dosa. Rice flour, salt, and water are all that's required, there's no need to ferment it either! Goes best with any gravy like Chicken Gassi, Saagu or even Ghee roast!
This restaurant is a class apart. They serve fresh Neer Dosa and you must try it with Chicken/Prawn Ghee roast
Located at Deepa Comforts hotel, this is the place to head to if you're vegetarian. You must try the Neer Dosa with their signature range of chutneys!
Bangalore
The big daddy of Dosas is none other than Bangalore. There's a little for everyone out here. The Masala Dosas are truly a class apart and we promise that you won't find Dosas as satisfying as these anywhere else. Here are the 3 must visit places:
Nestled in the by lanes of Malleshwaram, this restaurant has been around since 1920's and serves one of the crispiest Benne (butter) Masala Dosa. Their clientele ranges to everyone from common men, to artists and even the Maharaja of Mysore.
Another one of Bangalore's crown jewels. Located at Gandhi Bazar, Basavanagudi, VB has been serving unbelievably crispy Masala Dosas since 1943! It's a true sight to behold one man holding 20 Masala Dosas stacked in one hand and serving them to you. The who's who of India has had a Dosa from here and raved about it. Their Saagu Dosa is also one of a kind, do try it!
Mavalli Tiffin Rooms was started by Yagnanarayana Maiya and his brothers in the year 1924. Their Dosa served with a copious amount of Ghee (plus an extra bowl of ghee for free) will surely clog your arteries but you'll be nothing short of happy! No wonder they have branches in Dubai, Singapore etc. For the record, MTR also has the credit of creating the Rava Idli!
Mysore
Moving slightly below we reach Mysore. Famous all across India for the "Mysore Masala Dosa", you also get the Mylari Dosa which is another unique type of Dosa. A small piece of advice, when in Mysore, don't ask for a Mysore Masala Dosa, people will laugh at you, over here it's simply called a Masala Dosa, you're welcome!
Located at Nazarabad, don't let the small space and signboard fool you. These folks are so famous that 4 restaurants have plagiarized them but none were able to match the taste which is why the original reigns supreme. This place opens at 7:00 AM and is super crowded, but don't let that hold you back!
Though there are many places with this name, the one we want you to go to is the original one located at Devaraja road. The open kitchen gives you a warm feeling and the Masala (Mysore) Dosa is a class apart. The Open Dosa also deserves a special mention.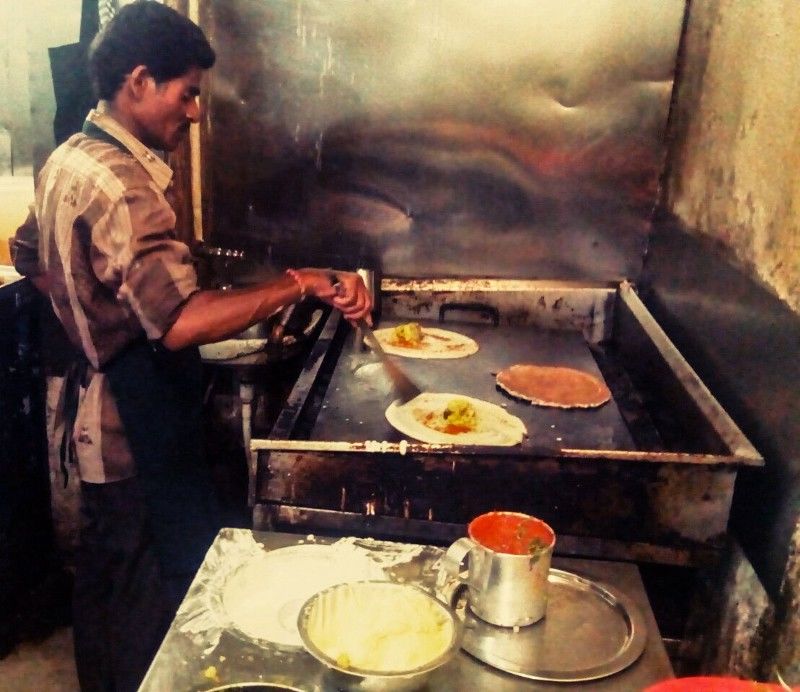 Davangere
As we move towards the North, only one Dosa reins supreme, the Davangere Benne Dosa. Made from home-made butter. Crispy, satisfying, heart attack are synonyms for this Dosa.
Sri Guru Kottureshwara Butter Dosa Hotel:
Never before have we ever seen the name of a hotel so elaborate that, just the name describes the entire menu and the best dish they have on offer at the same time. The specialty here apart from the homemade butter is that the Benne Dosa is prepared using firewood and not gas which gives it a unique taste altogether.
*Wipes saliva from mouth & phone, frantically calls up best friend and plans road trip across Karnataka*
There you have it Dosa lovers, the best Karnataka has to offer! What are you waiting for? ATTACK!