Cover Pic: Aditi KR
Summer is undeniably here and this year it intends on being nothing less than savage. It hangs over our head like an eclipse inducing thirst and perspiration 24/7. With its cruel heat and uncomfortable humidity, summer may not be the most romanticized season ever. But it does bring with it some benefits that can redeem it- you can only find sweet and ripening golden mangoes in summer. You can enjoy swimming uninhibited in this season. And most importantly you can truly enjoy a tall glass of cold, creamy and thick lassi under a blazing sun. Lassi appears as nectar that is a blessing in disguise during these unbearably hot months. Curd naturally cools your body down while its sweetness reenergizes you. It goes without saying that it is one of the most satisfying forms of relief from the heat.
Little brings to you a few ways that you can jazz up the quintessential glass of sweet/salty lassi by giving it a punch and a kick with a bout of fresh flavors while retaining its original essence.
Mango and lassi are most certainly the two things that signify summer for a large number of people owing mainly to the fact that this king of fruits makes an appearance only during this time of the year. That makes mango lassi the topmost preference for lassi lovers and mango lovers. The sweet richness of the fruit combines with the creaminess of the curd to give you the most unbeatable combo for the summer.
This untraditional variation of the humble lassi is a favourite among kids and adults alike. But contrary to popular belief it is in fact quite different from chocolate milkshake. Lassi is made with thick curds and this adds a volume and richness to the beverage that milk does not. One can blend normal lassi with Hershey's syrup or drinking chocolate and even Nutella to bring about the flavor of hazelnuts into the drink.
Mint is traditionally known to be a natural cooler of body temperature and this is a quality that comes handy during summers. If you enjoy mint coolers and Virgin Mojitos then this one is a must-try for you. For best results use fresh mint leaves blended into the lassi and garnish it with some additional leaves. However in the absence of fresh leaves you can use mint syrup as well.
There are few things in the world that cannot be made better with a hint of coffee in them. From walnut brownies to milkshake and hot chocolate – coffee is a versatile flavor that can easily be added to most beverages to give them a caffeine kick. Expresso lassi is a dream-come-true for coffee lovers and adding a dash of chocolate to the equation will definitely elevate the drink. Replace your morning coffee for this unique and refreshing combo this summer! The Caramel Expresso lassi at Lassi café,
Caramel is not just versatile but also flexible- it can take any form from hard candy to thick sauce and everything in between. Another interesting use of caramel added to its resume is lassi. You can easily make caramel sauce at home within minutes and add this to curd while blending. Nothing can replace the flavor of freshly made rich caramel and it will add a toffee-like buttery sweetness to your lassi. You need not add sugar as well if you are adding caramel to the lassi. You can enjoy this with a dash of expresso at Lassi café, Bangalore for INR 100.
 Berry lassi
Berries come in several shapes, sizes and colours but they have one thing in common- they are perfect for desserts. You can include them in pies, cakes, ice creams, smoothies, cobblers, waffles- the list is endless. So naturally they found their way into this list as well! Fresh ripe berries such as strawberries, blackberries, blueberries, cranberries etc. add a dimension of freshness to your lassi. You can innovate with sour berries as well such as gooseberries and unripe strawberries. Since several berries are not easily available in the Indian market you can use berry crushes, compotes, frozen berries and syrups. You can find wonderful variations of berry lassi at Blue Lassi, Varanasi.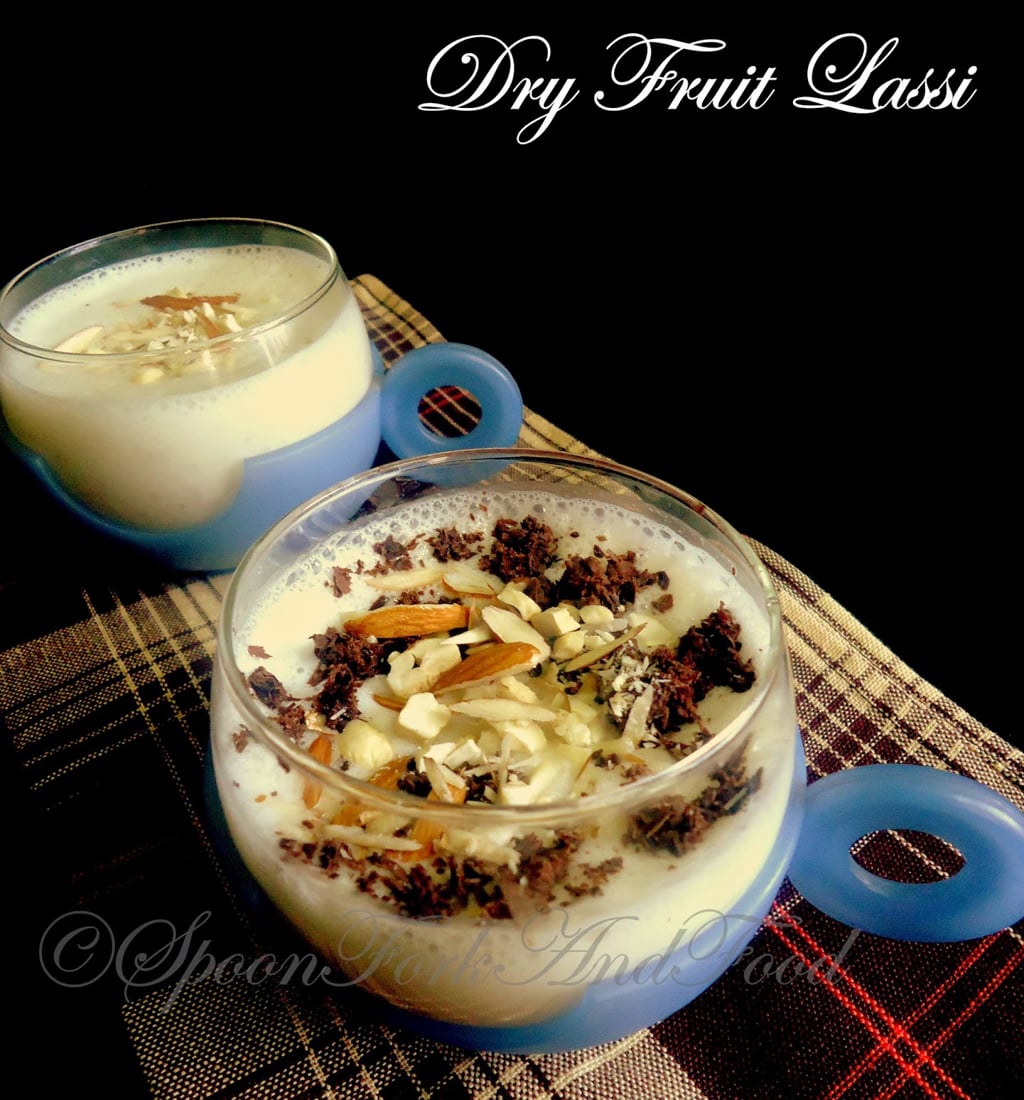 Nothing makes a statement of extravagance like dry fruits and they hold a special place in the Indian cuisine. They are not only limited to desserts and extend to savory dishes as well- they form the base for gravies and find themselves atop biryani. Different combinations of dry fruits can be used for making different kinds of lassis. Amonds, cashews, pistachios and even walnuts can be the main ingredient for your lassi. Combinations like Pista -Badam(Pistachios and almonds) or Kaju-Badam are generally popular choices though you can experiment further. Enjoy this indulgence at Lassi Shop, Bangalore at only INR 60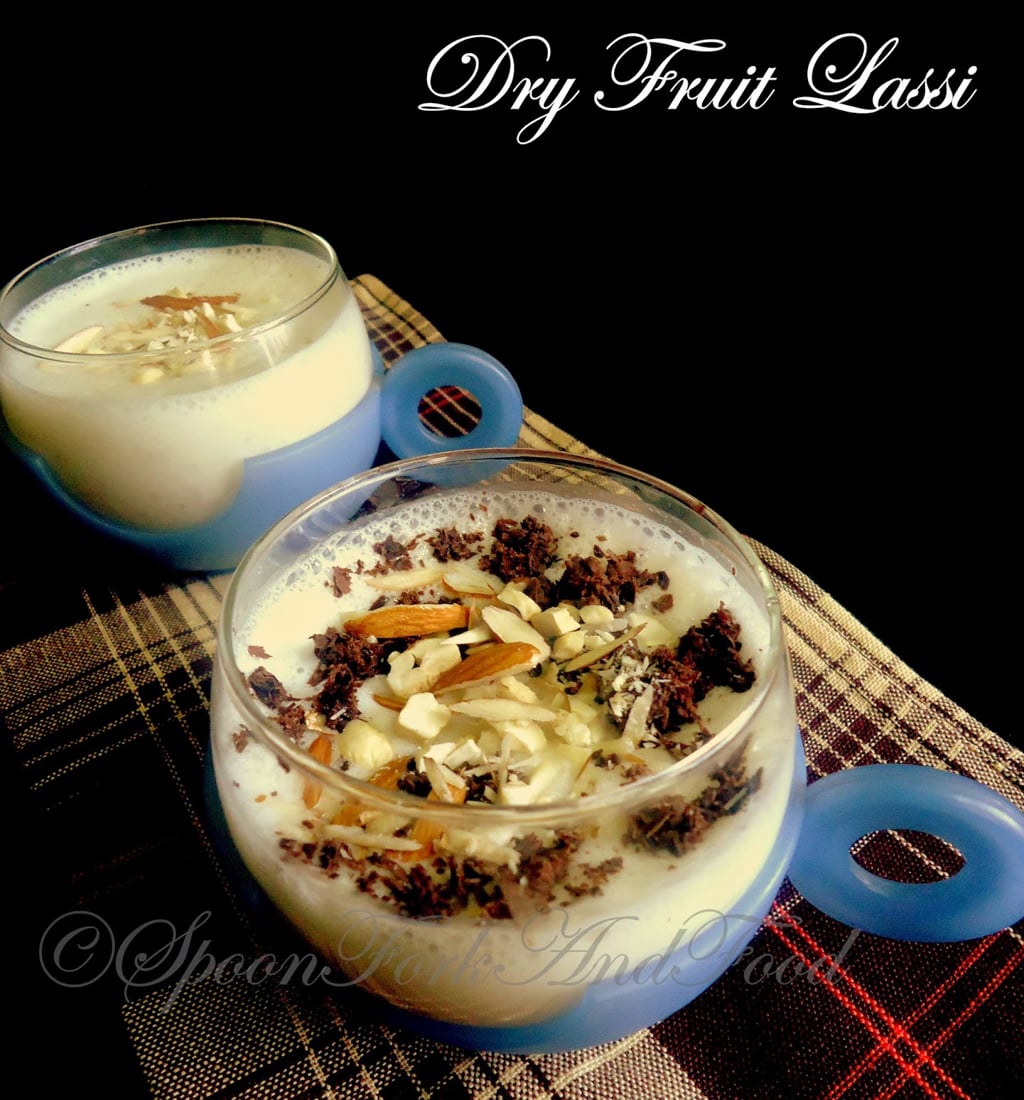 You don't need special ingredients for this one and yet it is a refreshing option that hasn't been explored up to its full potential. This lassi boasts of showing off the flavors of every fruit you blend with it. Your choices are limitless- bananas, oranges, musk melons, pomegranates- you can experiment with all these fruits and many more. Not only will you be able to enjoy a unique flavor every time you try a different combination, this is definitely the most nutritious and healthy variation of lassi on this list. This widely available beverage can be enjoyed at Sanjay Chur Chur Naan for INR 50.
Elaichi is a much loved spice in Indian kitchens.  It has the wonderful ability of adding sweetness to a dish without being sweet itself. If you should be unfortunate enough to bite into a cardamom you will realise that it is almost bitter. Its unforgettable fragrance is not; and it complements your sweet lassi perfectly. If you are a fan of elaichi tea then you should most certainly add this to spice up your lassi. Blend or crush it into a fine powder with sugar as it is often unpleasant to bite into and mix it with your lassi. The kesar masala lassi at Kailash Mandir Lassi and sweet shop has a significant elaichi flavour.
You may never come to know what a rose actually tastes of unless you venture to take a bite off a petal (Highly not recommended). But almost every Indian household is familiar with the taste of rose essence. It is lightly fragrant and tastes like the season of spring itself. Rose syrup is easily available as it is often used over ice-creams and faloodas. You can even use the popular sherbet Roohafza for the rose flavor in your lassi. It is a breezy and light variation of otherwise heavy and thick lassi. You can enjoy this drink at Swadesi, Mumbai at INR 50 and even add on a dollop of ice-cream to it .
Saffron moonlights as a spice as well aa a dry fruit. It adds to a dish not just a heavenly fragrance but also  it's colour kesariya. It works as a topping, flavor, colouring and is a prominent part of most desserts. It would be unfair to derive our very own lassi of the saffron touch then. Most often combined with almonds ir pistachios, keshariya lassi at Pai's Malgudi for INR 80 is unadulterated saffron delight.
Masala lassi
Unless you have a sweet tooth of an extremely high threshold, by now you may have become tired of the sweet treats in this list. This last lassi is here to save the day and change your palette. Open to experimentation, this lassi can be made with pinches of cumin powder, amchur, chaat masala, chilli powder, pepper and for the more adventurous people, even garam masala. Although garam masala isn't exactly recommended during the summers, cumin is a natural cooler for the body and chaat masala adds life to any dish or beverage it touches. Masala lassi is an explosive combination of hints of spices blended with chilled curd and is a twisted version of the ordinary salty lassi. You can relish this with Punjabi fare at Punjabi Times, Bangalore for INR 80.
These are some of our favorite unique variations of the much –loved lassi. Although lassi in itself is a delightful beverage and great for the summer do try these variations out this summer and beat the heat. Don't forget to check out LittleApp.in for awesome deals on drinks!